The demand letter is a letter sent to you by another party by their lawyer informing you that they're against an action you've committed and the reason why. Usually, the goal of this letter is to ask for some relief in money damages. If not fulfilled, you risk suffering legal consequences for not doing as requested within the stated duration.
It's thus crucial that you always respond to the demand letter promptly to avoid the dispute from getting any worse. But because all this can be pretty terrifying, you might be confused about what needs to be done when drafting the response to your demand letter. If this is the case, here's an overview of how to write this letter.
What to Include in The Response to Demand Letter
The demand letter is usually the presentation of a claim. Therefore, your goal as you write its response should be to share a counterargument that disproves the claim, and these mainly entails;
An alternate account of events as appropriate, and if possible, while detailing the corroborating evidence.
An outline of the original demand letter, clearly stating its proclamations even if you dispute them and how much money is being demanded.
Proposals on how you intend to resolve the dispute.
Note: Although some of the disagreements come down to "he-said-she-said" disputes, others aren't as clear. In fact, there might not be any factual disagreement or significant agreement on essential facts. All this will help establish an amicable decision or a chance of making a counter-proposal. With that said, you should always be cautious when taking responsibility, as this might come to haunt you later while in court.
How you Should Respond to the Demand Letter
There are a few things you need to do before you can even start drafting a response to the demand letter, including;
Evaluate The Letter
Right after receiving the delivery letter, make sure to go through it to familiarize yourself with its merits carefully. As you do this, you should confirm several other things in the letter such as;
Does it state who's accountable?
Did the event happen as exactly described?
Do the facts justify the demanded amount?
But before you even take responsibility and pay the requested amount, you need to review the appropriate legal standards. It would be best if you did this regardless of whether the demand letter depicts an actual picture.
Establish The Intent
You need to understand why precisely the party has decided to send the demand letter. It's best to do this as your complainants might see this either as a quick chance to make money or acting in good faith. Knowing your plaintiff's intent will help you know the best response strategy to use. If dealing with a good-faith accuser, this may help build a conciliatory tone with them but might not be effective at repulsing an embezzler.
Calculate The Claims
Expecting the other party to document their claims is normal and rational. This usually happens even when the events happen as exactly stated, thereby anticipating the other party to bring out the evidence to authenticate their claims.
Is Hiring an Attorney Necessary?
It's no doubt that hiring an attorney is expensive. However, having legal advice is necessary for many complex or high-stakes issues. It's also beneficial even in simpler cases and ensures you get value for your money.
Always Reply Within The Required Time Frame
You must make sure to always respond to the demand letter within the allocated time frame. Doing this is advised irrespective of the claim's merits as it looks good to the judge if this matter eventually lands in a civil court.
Why Should you Respond to the Demand Letter?
You should never fail to respond to a demand letter as this might lead to the plaintiff filing a case in court against you. This will be time-consuming and costly, and you're better off avoiding this altogether. But by responding to the demand letter, you open the door for this issue to settled harmoniously and economically.
Doing this will also help avoid ruining both your reputation and that of the plaintiff professionally and personally. Moreover, you'll need to spend time in court rather than focusing on your company's operations, thereby negatively impacting its overall productivity.
Sample – Response to Demand Letter
Dear Mr. Specter,
I am writing to formally respond to your demand letter dated February 28, 2023, wherein you requested a payment of $890 pertaining to the alleged damage to the floors and walls at 753 Main Street, Apt. 5, Deans Lane, NY.
I acknowledge that I resided at this aforementioned address from October 2, 2019, until my exit on January 27, 2023. However, I must object to your assertion of my liability for the damages you have cited in your demand letter.
Given that I did not provide a security deposit at the commencement of my lease, I understand you may see it necessary to request the said sum from me directly. However, I would like to draw your attention to the provisions in the New York General Laws concerning rental security deposits. These regulations clearly delineate the circumstances under which a landlord may claim damages from a tenant.
In your demand letter, you included photographs that purport to show minor wear and tear in the bedroom, dining room, and living room areas of the property. However, you did not provide any substantial evidence to demonstrate that these damages were caused directly by my actions, and not as a result of normal, "reasonable wear and tear" as stipulated in the General Laws.
Moreover, the extent of the damages depicted in the photographs, in my understanding, does not surpass the threshold for what could reasonably be considered normal wear and tear. Any such minor damages are to be expected over the course of a lease period, and should not be construed as negligence or misuse on my part.
In light of the above, I respectfully refute your claim of my responsibility for the damages in question. I understand the challenges associated with maintaining rental properties, but the evidence presented does not conclusively establish my liability for these repairs.
Therefore, I kindly request that you reconsider your claim against me.
Yours sincerely,
Pearson Zane.
Response to Demand Letter (Word Template)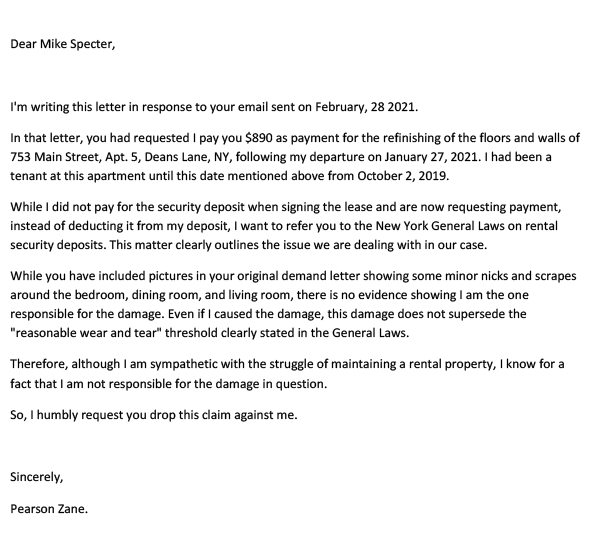 It's no doubt that receiving a demand letter may be worrying. But to make sure the issue is resolved good-naturedly, the first thing you need to do is write a response to the demand letter. If you didn't know how this needs to be done, highlighted is everything to know about writing the demand letter's response.